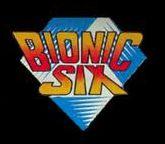 In 1986 a new toy line line was introduced..The Bionic Six, which would be followed by a cartoon show that's still a pop culture classic!
Bionic Six By LJN

Based on the animated series from the 1980s, the Bennet family were pitted against Dr. Scarab and his minions. These figures and vehicles were made up of plastic and die-cast metal with some of the figures having see through limbs. F.L.U.F.F.I. the robot ape was hard to find early in the series's release, but was easy to come by later on as the line lost popularity.

Of the vehicles the M.U.L.E.S. Van is the hardest to come by, the Dirt Bike and Quad Runner can be tough to find as well. The Secret Headquarters is probably the most difficult from the entire set to find, especially complete with all of its parts.

SERIES 1 1986

Bunji
Helen
Jack
F.L.U.F.F.I
J.D.
Eric
Meg
Mechanic
Glove
Madame-O
Dr. Scarab
Chopper
Klunk


VEHICLES & PLAYSETS

M.U.L.E.S Van
Dirt Bike
Quad Runner
Electronic Laser Aero Chair
Electronic Flying Laser Throne
Secret Headquarters Bionic Laboratory

For More Bionic Six Fun.. Check Out the Cartoon Spotlight!