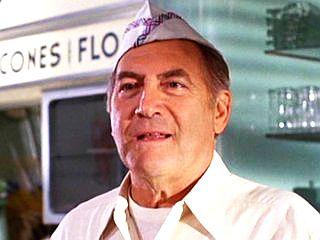 For you Back To The Future Fans..You'll remember Norman as Lou Caruthers, the owner of the coffee shop in Back to the Future!
Born in 1924, Norman Alden served in the Army during World War II. At the end of the conflict he had the opportunity to benefit from the Montgomery GI Bill program meant to help returning soldiers to start or resume studying. That is how, while attending Texas Christian University, he discovered on the boards of on-campus theater that he had a talent for acting. This was the beginning of a long long career.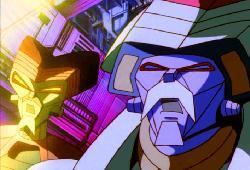 For you Transformer fans, you'll remember Norman as Kranix and Arblus from the 1986 animated film!
A Look Back On Norman's Work...
Animated Work..
1997 Aaahh!!! Real Monsters: Norm Alden as Cop / Old Timer

1997 Rugrats: Norm Alden as Plastic Piggy

1986 The Transformers [The Movie]: Norm Alden as Kranix / Arblus

1977 The All-New Super Friends Hour: Norm Alden as Aquaman / Bald Scientist / Black Scientist

1974 Devlin: Norm Alden as Henry 'Hank' McSummers

1973 Super Friends: Norm Alden as Aquaman / Green Arrow / Plastic Man

1963 The Sword in the Stone: Norm Alden as Sir Kay
Live Action..
2006 Our House: Norm Alden as Old Fellah

2002 JAG: Norm Alden as Mr. Platt

1986-1988 Murder, She Wrote: Norm Alden as Bart Klapper / Mercer Hawthorne

1988 They Live: Norm Alden as Foreman

1988 Cagney & Lacey: Norm Alden as Dan Cobbin

1986 Sledge Hammer!: Norm Alden as Roscoe

1984-1986 Dynasty: Norm Alden as Guard / Gun Salesman

1985-1986 Hunter: Norm Alden as Mike, Missing Persons / Jerry Walsh

1985 Silver Spoons: Norm Alden as Charlie Morrison

1985 Hill Street Blues: Norm Alden as Art Eastland

1985 Back to the Future: Norm Alden as Lou

1984 Hardcastle and McCormick: Norm Alden as Deacon Mobley

1983 The A-Team: Norm Alden as Mickey Stern / Police Inspector Ed Maloney

1983 Webster: Norm Alden as Coach

1983 Falcon Crest: Norm Alden as Det. Bitterman

1983 The Greatest American Hero: Norm Alden as Harry Davidson

1982-1983 The Fall Guy: Norm Alden as Al Demato / Coach

1982 Trapper John, M.D.: Norm Alden as Coach

1982 The Facts of Life: Norm Alden as Ernest Melbourne

1979-1981 Fantasy Island: Norm Alden as George Alden / Joseph E. Butler

1977-1981 Charlie's Angels: Norm Alden as Jake Barnett / Louis Fluellen / P. J. Wilkes

1980 The Love Boat: Norm Alden as Ralph

1979 The Dukes of Hazzard: Norm Alden as Chief Lacey

1979 Vega$: Norm Alden as Coleman / Lou Meakin

1979 One Day at a Time: Norm Alden as Mr. Jenkins

1974-1979 Barnaby Jones: Norm Alden as Norman Finch / Timmer

1978 Starsky and Hutch: Norm Alden as Buddy Owens

1978 The Rockford Files: Norm Alden as Roland Eddy

1978 Eight Is Enough: Norm Alden as Jenkins

1978 Dallas: Norm Alden as Senator Orloff

1978 Welcome Back, Kotter: Norm Alden as Detective Lieutenant Eddie Lasky

1976-1977 Alice: Norm Alden as Buster / L.W. 'Big Daddy' Dawson

1977 Quincy M.E.: Norm Alden as Bookie

1977 Most Wanted: Norm Alden as Rick Barone

1976-1977 Mary Hartman, Mary Hartman: Norm Alden as Coach Leroy Fedders / Leroy Fedders

1976 Baretta: Norm Alden as Stoneham

1975 The Hindenburg: Norm Alden as Det. Baker, N.Y.P.D.

1975 Kojak: Norm Alden as Foster

1973-1975 Adam-12: Norm Alden as Charles Baker / Sgt John Hardwicke

1971-1975 Cannon: Norm Alden as Harry Tilden / Mitchell / Walt

1974 Marcus Welby, M.D.: Norm Alden as Mr. Moore

1974 Planet of the Apes: Norm Alden as Zako

1974 Terror on the 40th Floor: Norm Alden as Capt. Parker

1974 ABC Afterschool Specials: Norm Alden as Auto Driver

1967-1973 Gunsmoke: Norm Alden as Amos Potter / Berber / Deke Franklin

1973 Kung Fu: Norm Alden as Sheriff Crossman

1972 Ironside: Norm Alden as Frank Harmon

1972 Ben: Norm Alden as Policeman

1968-1972 Mod Squad: Norm Alden as Charles Swain / Parker / Russ Barry

1972 Mission: Impossible: Norm Alden as George Collins

1971 Hawaii Five-O: Norm Alden as Cameron

1965-1971 Hogan's Heroes: Norm Alden as Major Heintzen / Sergeant Krebs

1970 The Psychiatrist: Norm Alden as Sheriff Glenn

1970 My Three Sons: Norm Alden as Tom Williams

1969 The Great Bank Robbery: Norm Alden as The Great Gregory

1969 Lassie: Norm Alden as Mike

1968 The Doris Day Show: Norm Alden as Road House Manager

1967 The Big Valley: Norm Alden as Jeff Bowden

1966-1967 The Andy Griffith Show: Norm Alden as Hank / Tom Strongbow

1967 Rango: Norm Alden as Captain Horton / Capt. Horton

1967 Good Times: Norm Alden as Warren

1966 Family Affair: Norm Alden as Dave McCovey

1966 Batman : Norm Alden as Henchman #1

1966 The Smothers Brothers Show: Norm Alden as Georgie

1963-1965 My Favorite Martian: Norm Alden as Detective Harris / Frank Tolbert

1965 Ben Casey: Norm Alden as Dr. Charlie Troy

1963 The Nutty Professor: Norm Alden as Football Player/Student

1962 The Rifleman: Norm Alden as Duff

1962 Dr. Kildare: Norm Alden as Bernie

1960-1961 Bonanza: Norm Alden as Poke / Teller

1961 Lawman: Norm Alden as Charley

1961 The Life and Legend of Wyatt Earp: Norm Alden as Johnny Ringo

1961 The Jack Benny Program: Norm Alden as Man with iron bar

1959-1960 The Untouchables: Norm Alden as Barry Carlton / John Henry Whitmore

1959 Perry Mason: Norm Alden as Darrel Reed

1958-1959 The Adventures of Rin Tin Tin: Norm Alden as Black Cloud / Black Claw

1959 Manhunt: Norm Alden as Dance Hall Guy

1958 The George Burns Show: Norm Alden as Police Officer

1958 Westinghouse Desilu Playhouse: Norm Alden as Denis Alexander

1958 The George Burns and Gracie Allen Show: Norm Alden as Louie D'Marco

1957 Circus Boy: Norm Alden as Pierre Manelli

1957 Leave It to Beaver: Norm Alden as Water Dept. Worker

1957 The Bob Cummings Show: Norm Alden as The Air Force Captain