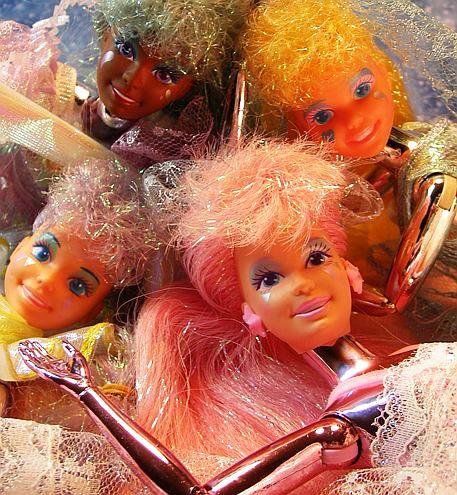 Meet the spectacular Spectra from Shimmeron and her exciting friends. They're beautiful fashion dolls from outer space with shiny bodies, shimmery hair, dazzling fashions and sparkly make-up! And their astro-accessories combine beauty and fantasy, giving girls exciting fashion play with space magic!

Spectra ...lacy ... spacy ... and out of this world!

Mattel released the Spectra line in late 1986, a year and a half after the debut of Hasbro's Jem line, fully expecting to capitalize on Jem's popularity. By this time however, Jem had already peaked and was falling out of favor. Spectra was not greeted with great enthusiasm by the consumers, and never came close to Mattel's expectations.-

With multi-jointed metallic colored bodies and ultra-stylized makeup, Spectra was an extreme departure from the familiar Mattel 11 ½" doll. Perhaps a little too extreme for the target age. Mattel had released Astronaut Barbie with a line of space fashions in 1985/1986. Had the space travel rage already run its course for the era? Whatever the reason, the Spectra line ran less than a year before it went out of production. This line has always been one of my favorites!
Spectra and her friends, of which there were five, were called Shimmerons after the planet they came from (Shimmeron). Each one came fully dressed and also included a comb.
Spectra
AstraGold
UltraViolet
Tom Comet
StylaBlue
Spectra was also available as a deluxe set with a pet dog called Spark. Spark, like Spectra, was also sold separately.
Spark
Play Set
There was one playset produced the [Buffatron]
By day, it's a beauty buffer..by night, it's a glamorous bed with pink fur and lacy canopy!
Spectra Fashions

Like many retro doll's Spectra had her own fashions [Just a few you would have seen]!

Exercise Outfit
Ball Gown

Spectra Doll Commercial