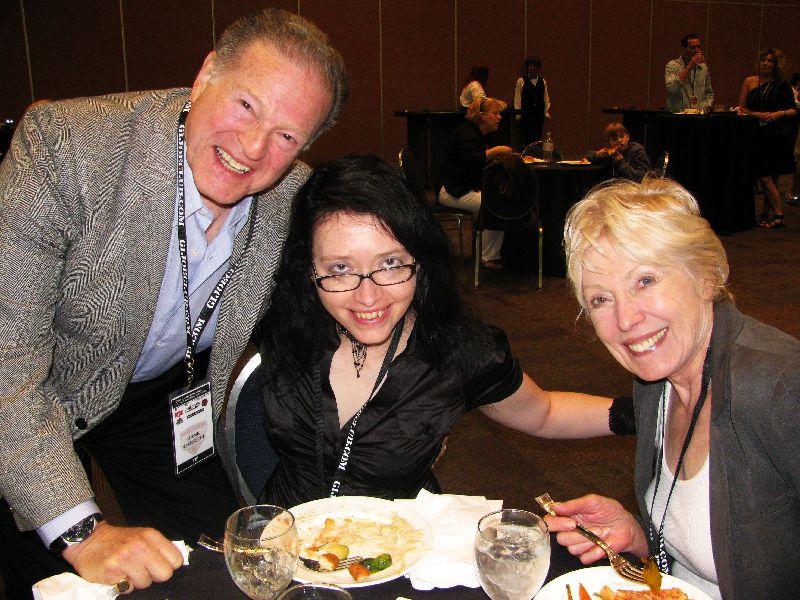 Dinner with Hank Garrett & Morgan Lofting, during a Joe Con!
For those that remember the seventies and eighties as well as I do, you'll remember many of these wonderful talents from the Hanna Barbera cartoons! Who hasn't watched Scooby Doo or the Flintstones? This part of my archive is to honor those favorite talents who voiced those cartoons and more!
I had thought of keeping all of these talents centered on the seventies and eighties only. But with so many great talents I had to add a few extras.. as you read down through this list you may see a few extras that are more recent.. But just as talented!
Interviews With Some Of My Favorite Talents!
Favorite Talents
Spotlights and links will be added to each actor's name!

Charlie Adler
Patricia Alice Albrecht
Norman Alden
Jack Angel
Marlene Aragon
Liz Aubrey

Jeff Bennett
Gregg Berger
Greg Berg
Mel Blanc
Cathianne Blore
Susan Blu
Steven Blum
Robert Bottone
Arthur Burghardt
Wally Burr
Corey Burton
William Callaway
Bill Capeze
Len Carlson
Ted Cassidy
Ian James Corlett
Peter Cullen
Brian Cummings
Christian Czingland
Linda Dangcil
Maia Danzinger
Danny Dark
Laura Dean
Alan Dinehart
Micky Dolenz
Shannon Farnon
Ruth Forman
Rebecca Forstadt
Pat Fraley
Hank Garret
Dick Gautier
Brian George
Ed Gilbert
Dan Gilvezan
Barbara Goodson
Luba Goy

Dave Hall
Mark Halloran
Mark Hamill
Earl Hammond
Johnny Haymer
Dan Hennessey
Zack Hoffman
Kene Holliday
John Hostetter
Jerry Houser
Charles Jolliffe
Buster Jones

Neil Kaplan
Jimmy Keegan
Auben Kelly
Hubert Kelly
Guilio Kukurugya

Phil LaMarr
Chris Latta
Hap Lawrence
Ted Layman
Katie Leigh
Patricia Lentz
Ketty Lester
Loren Lester
Lynne Lipton
Morgan Lofting
Keye Luke

Melanie MacQueen
Henry Mandell
Alexander Marshall
Mona Marshall
Chuck McCann
Cindy McGee
Michael McConnohie
Mary McDonald-Lewis
Bob McFadden
Graeme McKenna
Brendan McKane
Scott McNeil
David Mendenhall
Don Messick
Bill Morey
Iona Morris

Peter Newman
Sharon Noble

Tony Oliver
Jerry Orbach
Corinne Orr
Ray Owen

Laurel Page
Samantha Paris
Rob Paulsen
Vic Perrin
Britta Phillips
Patrick Pinney
Valerie Politis
Doug Preis

Lisa Raggio
Gerrianne Raphael
Bill Ratner
Hal Rayle
Bob Remus
Bumper Robinson
Michelle Robinson
Neil Ross
Stanley Ralph Ross
Dan Roth
Dick Ryal
Will Ryan
Michael Rye
Ronnie Schell
Marilyn Schreffler
Ted Schwartz
Gregory Snegoff
Olan Soule
John Stephenson

Venus Terzo

Janet Waldo
B.J. Ward
Vernee Watson
Lee Weaver
Jimmy Weldon
Frank Welker
Wally Wingert
Stan Wojno
William Woodson
Dan Woren
Weird Al Yankovic
Alan Young
Keone Young
More to be added in the future along with blogs to each actor/actress!

Transformers Movie Reunion
Some of my favorite talents gather for a Transformers reunion!

[Part1]
[Part 2]
Photos with some of my favorite talents..