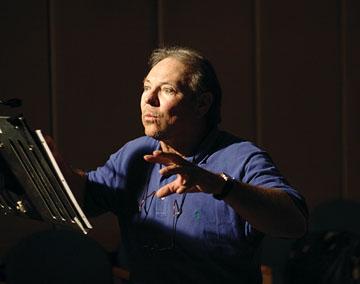 It was a real treat this past summer, when Frank made me an honorary Decepticon through an autographed interview!
Frank began his professional career as a comic in 1967 and went on to open for such musical acts as The Righteous Brothers.. Sonny and Cher, and Diana Ross. He made his acting debut in the Elvis Presley film, Trouble With Girls. Welker was a regular in Knott's weekly television series, and later co-starred in the television series Laugh Trax with Howie Mandel and Jim Staahl. I also remember his appearing in 'The Computer Wore Tennis Shoes' one of my favorite Disney movies from 1969!
Then moving onto animation Frank not only was the voice of many of my favorite Transformer characters, but he was a huge part of my childhood as I watched Scooby-Doo and Jabberjaw most every school day! Then Saturday mornings it was..The Real Ghostbusters, from which Frank had a huge role as our favorite green ghost and RayStantz!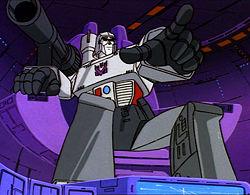 Frank has always been well known for his wonderful characters.. Including that of the Transformer character's Megatron and Soundwave!

Show Business..Looking back on Frank's career!




Television/Animation



[2010-2012] Scooby-Doo! Mystery Incorporated: Fred Jones/Scooby-Doo/Barty Blake

[2010-2012] Transformers Prime: Megatron/Vehicon Trooper/Zombie Cliffjumper

[1993-2011] Beavis and Butt-Head: Animals vocal effects

[2006-2011] Mickey Mouse Clubhouse: Bella/Figaro/Butch

[1999-2011] Futurama: Nibbler

[2008-2011] Ni Hao, Kai-Lan: Mr. Dragon

[1999-2011] Family Guy: Fred Jones/Megatron

[2011] The Garfield Show: Garfield

[2011] Generator Rex: I-V/One

[2006-2011] Robot Chicken: Megatron/Barack Obama/Billy's Dad

[2011] Batman [The Brave and the Bold]: Batboy/Fred/Scooby-Doo

[2010] The Avengers: Earth's Mightiest Heroes: Gamma Monsters

[2010] Good Luck Charlie

[2010] Mad

[2006-2010] Curious George: George

[2009] The Informant!: Mark Whitacre's Father

[2009] Titan Maximum: Coop

[2008-2009] Sid the Science Kid

[2003-2008] Codename [Kids Next Door]: Professor XXXL/Bus Driver/Mr. Uno

[2001-2007] The Grim Adventures of Billy & Mandy: Boskov/Anchorman/Announcer

[2006-2007] The Emperor's New School: Creepy Old Man/Homework/Skeleton Anteater

[2002-2007] Harvey Birdman, Attorney at Law: Jabberjaw/Avenger/Biff

[2003-2007] Kim Possible: Monkey Ninjas/Chippy/Condor

[2006-2007] Shaggy & Scooby-Doo [Get a Clue!] Scooby-Doo/Agent #3/Fred

[2002-2006] The Adventures of Jimmy Neutron [Boy Genius]: Goddard

[2002-2006] What's New, Scooby-Doo?: Scooby-Doo/Fred/14 Carot

[2005] The Batman: Armored Truck Driver/Giant Spider/Hyhenas

[2003-2005] Lilo & Stitch [The Series]: Experiment Voices/Kixx

[2004-2005] Danny Phantom: Crows/Ectopus/Shadow

[2005] W.I.T.C.H.: Guard #1/Guard #2/Prisoners

[2005] The Life and Times of Juniper Lee

[2004-2005] Megas XLR: Mac/Targon/Baby

[2003-2005] Duck Dodgers: K-9/Astro Dragon/Captain Rodman

[2004-2005] Dave the Barbarian: Faffy

[2004] Super Robot Monkey Team Hyperforce Go!: Thingy

[2003-2004] Evil Con Carne: Boskov/Alien #1/Bear

[1997-2004] Johnny Bravo: Barney Rubble/Cats

[2004] Jimmy Neutron: Win, Lose and Kaboom: Goddard

[2002-2004] Totally Spies!: Lion/President/President's Body Guards

[1996-2003] Dexter's Laboratory: Monkey/Krunk Robot

[2003] Tarzan

[2001-2003] SpongeBob SquarePants: Baby Oyster/Clamu the Oyster/Gorilla

[1998-2003] The Powerpuff Girls: Abracadaver

[2003] Static Shock: Packard

[2001-2002] House of Mouse: Gus Goose/Butch the Bulldog

[2002] ¡Mucha Lucha!: Masked Dog

[2000-2002] Jackie Chan Adventures: Dai Gui/Tchang Zu

[2002] ChalkZone: Apple Peeler/Catapillar/Coach

[1991-2002] The Simpsons: Santa's Little Helper/African Animals/Baboons

[2001] The Weekenders: Dog/Turkey

[2001] The Legend of Tarzan: Manu/Apes/Bibi

[2001] Lloyd in Space: Campout on Zoltan III

[2001] The Zeta Project: Dog

[2001] Jason and the Heroes of Mount Olympus

[2001] CatDog: The Great Parent Mystery: Bessie the Sea Monster

[2000] Buzz Lightyear of Star Command: Grubs/Epoch/Ranger

[1996-2000] Adventures from the Book of Virtues: Sock/Cat/Dog

[1999-2000] Mickey Mouse Works: Butch/Aracuan Bird/Figaro

[1998-2000] Histeria!: Father Time/Bill Clinton/Fetch

[1999-2000] Batman Beyond: Ace the Bathound

[2000] Martial Law: Homer

[1999] Nash Bridges: Get Bananas

[1999] Recess: Abe Lincoln Cookie/Fiddler/Janitor

[1999] The Scooby-Doo Project: Fred

[1999] Roughnecks [The Starship Troopers Chronicles]: Trooper Johnson

[1998-1999] Pinky, Elmyra & the Brain

[1999] The Wild Thornberrys: Mox, Macqaque Wallah

[1999] I Am Weasel: Coyote/Man #2/Old Man

[1998-1999] Hercules: Pegasus/Abu/Ladon

[1999] Xyber 9: New Dawn

[1995-1999] Timon & Pumbaa: Giant Panda/Airplane Crew/Bartholomew

[1998] Star Trek: Voyager: Alien Creature

[1996-1998] Superman: Camorite/Creature/Doorman

[1995-1998] Pinky and the Brain: The President/Fred Floppel/Commander

[1993-1998] Animaniacs: Ralph the Guard/Buttons

[1997-1998] 101 Dalmatians [The Series]: Scorch/Steven the Aligator

[1997] Extreme Ghostbusters: Ray Stantz

[1996-1997] Jungle Cubs: Crane/Crocodile/Frogs

[1995-1997] The Mask: Milo/Baby Forthwright/Coco Bongo Bouncer

[1997] South Park: Animals

[1997] Waynehead: Tripod

[1996-1997] The Real Adventures of Jonny Quest: Bandit/Dr. Jeremiah Surd/Pilot

[1996-1997] Quack Pack: Knuckles/Conscience/The Claw

[1997] The Legend of Calamity Jane: Joe Presto

[1997] Donkey Kong Country: Krusha

[1997] Channel Umptee-3

[1996] Cave Kids: Dino/Alligator/Duck

[1996] Casper: Clarance/Mortimer Pennypincher

[1995-1996] Freakazoid!: Mr. Chubbikins/The President

[1995-1996] The Cartoon Cartoon Show: Dino/Einstein/General

[1996] Road Rovers: Shag/Muzzle

[1996] Mighty Ducks: Chameleon

[1996] Gargoyles [The Goliath Chronicles] Bronx/Banquo/Cagney

[1996] Captain Simian & The Space Monkeys

[1996] Bruno the Kid

[1994-1996] Gargoyles: Bronx/Boudicca/Cagney

[1990-1996] Captain Planet and the Planeteers: Suchi/Lead Suit/Tank Flusher III

[1996] The X-Files

[1995-1996] Hot Rod Dogs & Cool Car Cats: Benz

[1993-1995] SeaQuest 2032

[1994-1995] Aladdin: Abu/Xerxes/Hakim

[1995] The Savage Dragon: Arachid

[1995] The Adventures of Hyperman: Entrobe

[1992-1995] Batman: Isis the Cat/Thug/Werewolf FX

[1995] The Sylvester & Tweety Mysteries: Hector

[1992-1995] Capitol Critters: Presidential Cats

[1995] The Shnookums & Meat Funny Cartoon Show: Meat

[1995] A Pinky & the Brain Christmas Special: The President

[1988-1994] Garfield and Friends: Bo/Booker/Sheldon

[1993-1994] Swat Kats: The Radical Squadron: Dr. Viper/Dr. Elrod Purvis/Al

[1978-1994] ABC Weekend Specials: Bunjee/Ceasar/Champ

[1993-1994] Mighty Max: Lava Lord/Warmonger/Escaped Scientist

[1994] The Itsy Bitsy Spider: Itsy

[1993] Sonic the Hedgehog: SWATbots

[1992-1993] Goof Troop: Waffles/Chainsaw

[1990-1993] Tom & Jerry Kids Show: Jerry/McWolf/Tom

[1991-1993] The Pirates of Dark Water: Niddler/Lugg Brother #2

[1993] 2 Stupid Dogs

[1993] Harts of the West:'Ralph' the Prairie Dog

[1992-1993] The Little Mermaid: Lucky/Penny the Cat

[1993] Bonkers: Fall-Apart Rabbit

[1993] Marsupilami:Meat

[1992] Super Dave: Daredevil for Hire

[1990-1992] Tiny Toon Adventures: Furrball/Gogo Dodo

[1991-1992] Darkwing Duck: Ants/Dean Tightbill

[1992] Fish Police: Mussels Marinara/Doc Croaker/Louie

[1992] Get a Life: Spewey

[1991-1992] Northern Exposure: Goat Sounds/Special Dog Effects

[1992] Fish Police: Mussels Marinara / Doc Croaker / Louie

[1991-1992] Yo Yogi!

[1992] Camp Candy

[1992] The Plucky Duck Show : Furrball/Calamity Coyote/Little Beeper

[1991] Where's Waldo?

[1984-1991] Muppet Babies: Kermit/Skeeter/Beaker

[1986-1991] The Real Ghost Busters: Dr. Raymond Stantz/Slimer

[1990-1991] Bobby's World: Roger

[1991] Dinosaurs

[1990-1991] TaleSpin: Wildey Pole/Brutis

[1987-1991] Adventures of the Gummi Bears: Bobo/Bull/Finwithit

[1990-1991] Timeless Tales from Hallmark

[1990] Captain N: The Game Master: Gameboy

[1983-1990] The Chipmunks

[1990] Midnight Patrol [Adventures in the Dream Zone]: Murphy/Nosey Bird

[1990 The Adventures of Don Coyote and Sancho Panda: Don Coyote/Dapple

[1990] Wake, Rattle & Roll: Peter Potamus

[1990] The Wizard of Oz: Toto

[1987-1990] DuckTales: Bigtime Beagle/Bubba the Caveduck/Baggy Beagle

[1989] The Further Adventures of SuperTed

[1989] A Pup Named Scooby-Doo: Uncle Eddie Jones

[1989] Rude Dog and the Dweebs: Caboose/Rot/eymour

[1988-1989] This Is America, Charlie Brown

[1988-1989] Slimer! And the Real Ghostbusters: Slimer/Elizabeth/Fred

[1989] Dink, the Little Dinosaur: Crusty/Scar

[1988] Superman

[1988] Denver, the Last Dinosaur

[1988] Fantastic Max

[1988] Probe: Josephine the Mape

[1988] Rags to Riches

[1985-1988] CBS Storybreak

[1988] Dino-Riders: Glyde/Krulos

[1987] Little Clowns of Happytown

[1986-1987] Pound Puppies: Catgut/Nabbit/Alley Cats

[1987] Spiral Zone: Dr. Harold Lawrence/Razorback/Ned Tucker

[1984-1987] The Transformers: Megatron/Galvatron/Soundwave/ skywarp/Frenzy/Laserbeak/Ravage/Buzzsaw/Mirage/TrailBreaker..among others.

[1987] Bionic Six: Glove/Mechanic/Spot

[1987] The Little Wizards

[1986-1987] The Flintstone Kids: Nate Slate/Stalagbite/Thug

[1986] Highway to Heaven: President

[1986] Yogi's Treasure Hunt: Headmaster/Jabberjaw

[1986] Spitting Image: Down and Out in the White House

[1986] Sectaurs: Raplor/Skulk/Trancula

[1985] Scooby's Mystery Funhouse: Fred

[1985] Robotix: Bront/Tyrannix

[1985] The Jetsons: Orbitty/Ghost of Christmas Present/Hunky

[1983-1985] Dungeons & Dragons: Tiamat/Uni

[1985] Challenge of the GoBots: Scooter/Blaster/Rest-Q

[1985] The Super Powers Team [Galactic Guardians]: Ace/Darkseid/Kaliba

[1983-1985] Inspector Gadget

[1985] The 13 Ghosts of Scooby-Doo

[1985] It's Punky Brewster: Glomer

[1985] The Berenstain Bears: Farmer Ben/Henchweasels/Others

[1985] Galtar and the Golden Lance: Koda/Thork/Tuk

[1985] Kissyfur: Claudette/Uncle Shelby

[1985] Paw Paws: Ross Bumble Paw

[1984] The New Scooby-Doo Mysteries: Fred

[1984] Simon & Simon: Dubbing Actor

[1984] Lucky Luke: Joe Dalton

[1984] SuperFriends [The Legendary Super Powers Show]: Darkseid/Kalibak/Mr. Mxyzptlk

[1984] Snorks: Occy/Tooter Shelby

[1984] G.I. Joe: The Revenge of Cobra: Torch/Wild Bill/Freedom

[1984] Turbo Teen: Dark Rider/Flip/Rusty

[1984] Wolf Rock TV: Bopper

[1984] Pink Panther and Sons: Finko/Rocko

[1984] The Duck Factory: Everett

[1984] The Get Along Gang: Braker Turtle

[1983] The Puppy's Further Adventures

[1983] The Littles: Slick the Turtle

[1981-1983] Spider-Man and His Amazing Friends: Iceman/Bobby Drake/Ms. Lion

[1983] The Dukes: Flash/General Lee/Smokey

[1983] Saturday Supercade: Donkey Kong Junior/Coilee/Q*Ball

[1983] G.I. Joe: A Real American Hero: Rock 'n Roll/Short-Fuse/Timber

[1980-1983] Super Friends: Mr. Mxyzptlk/Dr. Wells

[1983] Monchhichis: Patchitt

[1982] Jokebook

[1982] Meatballs and Spaghetti: Woofer

[1982] The Scooby and Scrappy-Doo Puppy Hour: Fred

[1982] Matt Houston: Joey

[1982] Too Close for Comfort: Andrew Rush

[1982] Mork & Mindy/Laverne & Shirley/Fonz Hour: Doing/Mr. Cool

[1982] Pac-Man: Chomp Chomp

[1982] Laugh Trax: Various

[1981] Blackstar: Burble/Gossamear/Rif

[1981] The Kwicky Koala Show

[1980-1981] The Ri¢hie Ri¢h/Scooby-Doo Show: Dollar/Fred

[1981] Space Stars: Cosmo/Blip

[1980-1982] Heathcliff: Dingbat

[1980] The Tarzan/Lone Ranger/Zorro Adventure Hour

[1980] The Flintstone Comedy Show: Rockjaw/Shmoo

[1980] The Fonz and the Happy Days Gang: Mr. Cool

[1980] The New Adventures of Tom and Jerry: Droopy/Slick Wolf/Spike

[1979-1980] Scooby-Doo and Scrappy-Doo: Fred/Frightened Man in crowd/Mr. Marino

[1979] The Plastic Man Comedy/Adventure Show: Fangface/Fangpuss

[1979] The Super Globetrotters: Crime Globe/Attila the Hun/Eagle

[1979] Fred and Barney Meet the Shmoo: Shmoo

[1979] Casper and the Angels

[1979] The New Shmoo: Shmoo

[1979] The New Adventures of Mighty Mouse and Heckle and Jeckle: Heckle/Jeckle/Quacula

[1979] Sport Billy: Sipe/Soprticus XI/Willy

[1979] Buford and the Galloping Ghost: Buford/Nugget Nose

[1979] Fangface and Fangpuss: Fangface/Fangpuss

[1978] Challenge of the SuperFriends: Toyman/Gorilla Child/Lilliputians

[1978] The Fantastic Four: H.E.R.B.I.E./Impossible Man

[1976-1978] The Scooby-Doo/Dynomutt Hour: Cat/Cop/Director

[1978] Fangface: Fangface/Sherman Fangsworth

[1978] The All New Pink Panther Show: Dragonfly/Crane Jr.

[1978] The All-New Popeye Hour: Dinky

[1978] The Robonic Stooges: Curly

[1978] Dynomutt Dog Wonder: Dynomutt the Dog Wonder/Fred

[1978] Dinky Dog: Dinky Dog

[1978] Yogi's Space Race: Buford/Captain Good/Clean Kat

[1976-1977] Wonderbug: Schlepcar/Wonderbug/Wondrebug

[1977] What's New, Mr. Magoo?

[1977] The Skatebirds: P.O.P.S./Jerome "Curly" Howard

[1977] Fred Flintstone and Friends

[1977] Scooby's Laff-A Lympics: Dynomutt/Jabberjaw/Junior Creeply

[1976-1978] The Krofft Supershow: Wonderbug

[1976] Jabberjaw: Jabberjaw Shark

[1975] The Oddball Couple

[1975] The New Tom & Jerry Show

[1974] Partridge Family 2200 AD: Orbit

[1974] Wheelie and the Chopper Bunch: Chopper/Wheelie

[1974] Hong Kong Phooey: The Claw

[1974] Valley of the Dinosaurs: Digger/Glump/Lok

[1973] Butch Cassidy: Elvis

[1973] Super Friends: Marvin/Wonder Dog/Mr. Darby

[1973] Love, American Style: Nephew of Enrico Carisima/Public Defender

[1973] Bailey's Comets: Pudge

[1973] The Burns and Schreiber Comedy Hour

[1973] The Paul Lynde Show: Freddy

[1972] The New Scooby-Doo Movies: Fred Jones/Curley

[1972] The ABC Saturday Superstar Movie: Mike

[1972] The Barkleys

[1972] The Partridge Family: Sioux

[1969-1970] Scooby Doo, Where Are You!: Fred




Movies/Straight to Video/DVD/Mini-Series



[2012] The Outback: Higgens/Bull

[2011] Scooby-Doo! Legend of the Phantosaur: Scooby-Doo/Fred Jones/Bikers

[2011] Spy Kids: All the Time in the World in 4D

[2011] The Smurfs: Azrael

[2011] Transformers: Dark of the Moon: Shockwave/Soundwave/Barricade

[2010] Firebreather: Dragon 1

[2010] Scooby-Doo! Curse of the Lake Monster: Scooby-Doo

[2010] Fred: The Movie

[2010] Toy Story 3: Bullseye/Buster/Barrel of Monkeys

[2010] Shrek Forever After: Dragon/Animals

[2010] Alice in Wonderland

[2009] Curious George [A Very Monkey Christmas]:George

[2009] Scooby-Doo! The Mystery Begins: Scooby Doo

[2009] Curious George 2 [Follow That Monkey!]: George/Cow

[2009] Transformers [Revenge of the Fallen] Soundwave/Devastator

[2009] Up: Kevin's Babies/Animals

[2008] Igor

[2006] Codename: Kids Next Door [Operation Z.E.R.O.]: Monty Uno

[2006] Cars: Frank the Combine Harvester

[2005] Jimmy Neutron [Attack of the Twonkies]: Goddard

[2004] Halloweentown High

[2001] The Flintstones [On the Rocks]: Dino/Monkey/Elevator Guy

[2001] Monsters, Inc: Ted Pauley

[2001] Swaroop [Boving Bliss] Sacred Cow

[1999] Toy Story 2: Bullseye/Buster/Barrel of Monkeys

[1999] A Saintly Switch: Voltaire

[1998] A Bug's Life: Thumper/Thud/Bird/Chicks

[1995] Toy Story: Buster/Barrel of Monkeys

[1995] Jonny Quest Versus the Cyber Insects: Bandit

[1995] Aladdin on Ice: Abu

[1995] Tiny Toons' Night Ghoulery: Furrball/Gogo Dodo/Byron Basset

[1994] The Pagemaster

[1994] A Flintstones Christmas Carol: Barney Rubble

[1994] In Search of Dr. Seuss: Audience Member/Hitler Lives Narrator/Horton/Hunters/Mouse/Van Itch

[1994] Scooby-Doo in Arabian Nights

[1994] Tiny Toons Spring Break: Gogo Dodo/Furrball/Bill Clinton

[1994] The Super Dave Superbowl of Knowledge

[1994] A Hollywood Hounds Christmas: Muttski

[1993] A Flintstone Family Christmas: Barney Rubble

[1993] Journey to the Center of the Earth

[1993] I Yabba-Dabba Do!: Barney Rubble/Dino

[1993] Jonny's Golden Quest: Snipe/Replicants

[1993] Hollyrock-a-Bye Baby (TV movie)

[1992] Aladdin: Abu/Cave of Wonders/Rajah (voice)

[1992] Goof Troop Christmas: Grizz/Waffles/Chainsaw

[1992] Inspector Gadget Saves Christmas: Brain/Dr. Claw/M.A.D. Cat

[1992] Breaking the Rules

[1992] The Gun in Betty Lou's Handbag: Scarlett Vocal Fx

[1992] Porco Rosso: Mamma Aiuto Gang

[1991] Beauty and the Beast: Footstool

[1991] Bill & Ted's Bogus Journey: The Devil/Station/Evil Easter Bunny

[1991] Suburban Commando: Alien Gen. Suitor

[1991] Garfield Gets a Life: Lorenzo/Gunner

[1991] Teenage Mutant Ninja Turtles II [The Secret of the Ooze]: Rahzar/Tokka

[1991] Beastmaster 2 [Through the Portal of Time]: Sharak/Kodo/Podo/Ruh

[1990] The Rescuers Down Under: Joanna

[1990] Gravedale High: Frankentyke/J.P. Ghastly the III

[1990] DuckTales: The Movie - Treasure of the Lost Lamp

[1990] Jetsons: The Movie

[1990] Happily Ever After: Batso

[1990] Gremlins 2 [The New Batch]: Mohawk

[1990] Garfield's Feline Fantasies: Fat Guy - Rameet

[1990] Return to Green Acres: Arnold

[1990] The Yum Yums: The Day Things Went Sour

[1989] The Little Mermaid: Max

[1989] Blondie & Dagwood [Second Wedding Workout]: Dagwood Bumstead

[1989] Honey, I Shrunk the Kids

[1989] Scenes from the Class Struggle in Beverly Hills

[1989] Super DuckTales: Big Time Beagle/Megabyte Beagle/M.E.L

[1989] Beetle Bailey: Zero/Otto

[1988] Garfield [His 9 Lives]: Mendelsen

[1988] Oliver & Company: Carlo

[1988] Cathy's Last Resort

[1988] The Completely Mental Misadventures of Ed Grimley: Sheldon

[1988] The Flintstone Kids' Just Say No Special: Dino/Fang/Crusher

[1988] Scooby-Doo and the Reluctant Werewolf: Crunch

[1988] Scooby-Doo and the Ghoul School: Matches/Papa Werewolf/Well Dweller

[1988] Caddyshack II: The Gopher

[1988] The New Adventures of Pippi Longstocking: Mr. Neilson/Alfonso

[1988] Who Framed Roger Rabbit: Dumbo

[1988] The Good, the Bad, and Huckleberry Hound

[1988] Pound Puppies and the Legend of Big Paw: Bones/Hairball/Reporter

[1988] Yogi & the Invasion of the Space Bears

[1987] 'Tis the Season to Be Smurfy: Hefty Smurf/Poet Smurf/Wild Smurf

[1987] The Little Troll Prince: Prag #2

[1987] Yogi's Great Escape: Bopper/Real Ghost/Yapper

[1987] The Jetsons Meet the Flintstones: Dan Rathmoon/Johnny/Mr. Goldbrick

[1987] Transformers [The Return of Optimus Prime]: Galvatron/Mixmaster/Rumble

[1987] Pinocchio and the Emperor of the Night: Igor

[1987] The Chipmunk Adventure: Sophie

[1987] Blondie & Dagwood: Dagwood Bumstead

[1987] Garfield Goes Hollywood: M.C

[1987] G.I. Joe [The Movie]: Torch /Wild Bill

[1987] Infidelity: Freighter

[1987] Munchies: Munchie

[1987] DuckTales [Treasure of the Golden Suns]: Bigtime Beagle/Penguin Leader

[1987] Yogi Bear and the Magical Flight of the Spruce Goose: Merkin

[1987] Top Cat and the Beverly Hills Cats

[1986] The Golden Child: The Thing

[1986] The Glo Friends: Glo Sluggerbug/Bully Frog

[1986] Lazer Tag Academy: Mr. Jaren/Ralphie/Skuggs

[1986] Rambo: Mad Dog

[1986] Foofur: Foofur

[1985-1986] G.I. Joe: Torch/Wild Bill/Polly

[1986] Amazing Stories: Greibble

[1982-1986] Smurfs: Hefty Smurf

[1986] Wildfire

[1986] Teen Wolf: Mr. Conroy

[1986] Transformers [Five Faces of Darkness]: Galvatron/Wheelie/Soundwave

[1986] G.I. Joe [Arise, Serpentor, Arise!]: Junkyard/Polly/Torch

[1986] Jonny Quest: Dr. Phorbus

[1986] The Transformers [The Movie]: Megatron/Soundwave/Rumble..

[1986] SpaceCamp

[1986] My Little Pony [The Movie]: Bushwoolie #3/Grundle

[1986] Centurions: Power X Treme

[1986] GoBots [War of the Rock Lords]: Scooter/Zeemon/Rest-Q

[1985] The GLO Friends Save Christmas

[1985] Star Fairies: Puppy/Lavender/Vanity

[1985] The Pound Puppies: Howler/Catgut/Snichey

[1985] Rose Petal Place [Real Friends]: Seymour/Horace

[1985] My Science Project: Aliens

[1985] Explorers

[1985] Cat's Eye

[1985] Robotman & Friends: Roberon/Sound-Off

[1984] Cannonball Run II

[1984] Gremlins: Stripe/Mogwai/Gremlins

[1984] Star Trek III: The Search for Spock: Spock Screams

[1984] The Smurfic Games: Hefty Smurf/Poet Smurf/Smurfberry Bird

[1984] My Little Pony: Grundle/Bushwoolie #3

[1983] Deck the Halls with Wacky Walls: Baby Boo

[1983] My Smurfy Valentine (TV movie) (voice)

[1982] Christmas Comes to PacLand: Chomp Chomp/Morris Reindeer

[1982] Pac Preview Party: Mr. Cool

[1981] A Chipmunk Christmas: Santa Claus/Doctor

[1981] Looney, Looney, Looney Bugs Bunny Movie: Lawyer/Interviewing Dog

[1981] Zorro [The Gay Blade]: Narrator

[1981] Raiders of the Lost Ark

[1979] Scooby-Doo Goes Hollywood: Fred

[1979] Casper the Friendly Ghost: He Ain't Scary, He's Our Brother

[1978] The Flintstones Little Big League: Bamm-Bamm Rubble

[1978] All-Star Comedy Ice Revue: Jabberjaw

[1975] Hugo the Hippo

[1975] The Last of the Mohicans: Magua/Soldier

[1973] Catch-22: Lt. J.S. McWatt

[1970] The Kowboys: Clem

[1969] The Computer Wore Tennis Shoes: Henry Fathington

[1969] The Trouble with Girls: Rutgers




Video games



[2010] Epic Mickey: Oswald the Lucky Rabbit/Shadow Blot

[2010] Toy Story 3: The Video Game

[2010] Kingdom Hearts [Birth by Sleep] Experiment 221 - Sparky

[2010] Splatterhouse

[2009] Transformers [Revenge of the Fallen] Megatron

[2008] History Civil War: Secret Missions

[2007] Godzilla: Unleashed

[2007] Looney Tunes [Acme Arsenal]: Road Runner

[2007] Transformers [The Game]: Megatron

[2007] Kingdom Hearts II [Final Mix]: Abu

[2006] Scooby-Doo [Who's Watching Who] Fred/Catscan

[2005] Kingdom Hearts II: Abu

[2005] King Kong [The Official Game of the Movie]: King Kong

[2005] Scooby-Doo! Unmasked: Fred/Prof. Stoker

[2004] Scooby-Doo! Mystery Mayhem: Fred/Doug Milton/Mummy

[2004] Forgotten Realms: Baldur's Gate - Dark Alliance II

[2003] Spawn: Armageddon: Creature vocals

[2003] Nickelodeon Toon Twister 3D: Goddard

[2003] Star Wars [Knights of the Old Republic]: Jorak Uln/Sunry

[2002] Kim Possible: Revenge of Monkey Fist

[2002] Star Wars [The Clone Wars]: Outpost Commander

[2002] Stitch Experiment 626: Experiment 621

[2002] Scooby-Doo [Night of 100 Frights]: Fred

[2002] Blood Omen II: Legacy of Kain

[2001] Forgotten Realms [Baldur's Gate - Dark Alliance]: Gnolls/Kobolds/Ogre

[2001] Scooby-Doo and the Cyber Chase: Fred

[2001] Star Trek: Starfleet Command: Orion Pirates

[2001] Aladdin in Nasira's Revenge: Abu

[2001] Scooby-Doo: Classic Creep Capers

[2001] Star Wars [Galactic Battlegrounds]: Pekt/Sith Master/Utric Sandov

[2000] Star Trek: Starfleet Command: Volume II: Empires at War

[2000] Forgotten Realms [Baldur's Gate II - Shadows of Amn]: Terminsel/Lord Cor Delryn/Avatar Of Amaunator/Ixilthetocal/Rakshasa/Kirinaldo/Various Creatures

[2000] Donald Duck Goin' Quackers

[2000] Sacrifice

[2000] 102 Dalmatians [Puppies to the Rescue]: Scorch/Al the Gator

[2000] Buzz Lightyear of Star Command: Plasma Monster

[2000] Flintstones Bedrock Bowling: Barney Rubble

[2000] Tenchu 2: Birth of the Stealth Assassins

[1999] Animaniacs Splat Ball: Ralph the Guard/Thaddeus J. Plotz

[1999] Forgotten Realms [Baldur's Gate - Tales of the Sword Coast]: Werewolfs/Greater Doppelganger/Fake Durlag/Dwarwen Characters

[1999] Arcade Frenzy

[1999] Spyro 2: Ripto's Rage!

[1999] Snake Man & The Deserted Island: Snake Man

[1998] Spyro the Dragon

[1998] Batman & Robin: Tarantula

[1998] Quest 64

[1998] Disney's Math Quest with Aladdin: Abu

[1998] CarnEvil: Freaks

[1998] Baldur's Gate: Elminster/Eltan/Korax

[1998] Gex 64: Enter the Gecko

[1998] The Junkyard Run: Tasmanian 'Taz' Devil

[1997] Fallout: A Post-Nuclear Role-Playing Game: Maxson

[1997] Clayfighter 63 1/3: The Blob/Ickybod Clay/Lockjaw of the Sculptor's Cut

[1997] Tamagotchi CD-ROM

[1997] Descent to Undermountain

[1997] Star Trek: Starfleet Academy

[1996] OverBlood: Pipo/Undead Creatures

[1996] Toonstruck: Ray/The Myna Bird/Bowling Bear/Elephant/Elmer/Surveillance Guard/Mouse/Scarecrow/Squirrel/Vulture/Venus Flytrap

[1994] Aladdin Activity Center: Abu